Let's talk about motivation in a quick webinar on Tuesday, January 16. How can we help people feel respected, capable, and part of a community when they're using our materials?
Three ingredients for motivation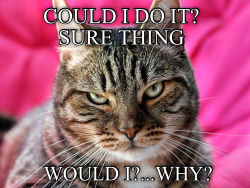 Our job is to change what people do. However, we don't want them to obey like robots — we want them to see why they should do it and happily incorporate the new behavior into their lives.
Research suggests that people are more motivated to do something if we satisfy their needs for autonomy, competence, and relatedness. How can we support those with some simple changes to our training design?
Join our 45-minute online discussion
Let's get together online on Tuesday, January 16, to talk about how our activity design can help or hurt people's willingness to act. We'll meet for free at 12 PM EST / 5 PM GMT using Zoom, which requires you to download a small app. Sign up here (seats are limited).
In 45 lively minutes, we'll look at elements such as:
Feedback: Avoid "telling" and preachiness — let them feel respected and capable of drawing the right conclusion; create relatedness by sounding like a friendly peer (here's an example)
Information: Let people pull the information they need, when they need it; use scaffolding to increase difficulty — support their autonomy, let them build competence at their pace
"Voice" in elearning — How can we make lonely, self-paced activities feel more "human" to help people feel relatedness?
Come share your questions and ideas! This will be a discussion with lots of activity in the chat.
Check out these activities
Before the webinar, try the following activities and consider how they might help or hurt people's sense of autonomy, competence, and relatedness. What works, and what doesn't?
Consider submitting an activity or idea
Do you have some materials that could inspire discussion about motivation? Do you know about a public example that we could critique? Send them to me and maybe we'll include them in the webinar. Obviously, you need to have permission to publicly show any materials that you send.
Maybe learn a bit about self-determination theory
The webinar is based on self-determination theory, which has been around for some time and appears to be supported by several studies. You might read this overview (PDF).
Can't make the webinar?
Digital elves will be recording the session, and if they do their job right, I'll post the recording on the blog. If you're a blog subscriber, you'll get a notification when the recording is available.
Vote for more topics
What would you like to talk about in future webinars or read about on the blog? Vote for others' ideas or propose your own here. To add an idea, use the "Give feedback" button.
Dig deeper into activity design with the February scenario design course
The next scenario design course starts the week of Feb. 5. In four weeks of lively sessions, you'll apply action mapping and scenario design to a project from your job and get personal feedback from me. There are online sessions for time zones in the Americas as well as Europe and South Asia. Check them out!
An Australia-friendly session of the course is tentatively scheduled for June. If you aren't already on the alert list, sign up to be notified when the next course is open for registration.
Image credit: Unmotivated cat by katkabob
Click Here For Original Source Of The Article